This time we are going to tell you something about the Game Tracks of Mario Kart 64, one of the most successfull video games developed by Nintendo. We assured you that this app is incredible and fantastic to spend your times. Continue reading to know something more about the Game Traks.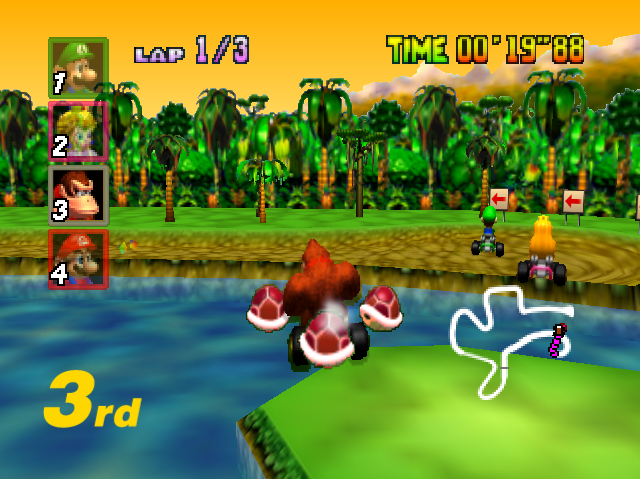 There are at least five Tracks in Mario Kart 64:
Mushroom Cup: the first circuit of the game is Luigi's track. The second circuit is the Moo Moo Farm, the shortest of the game and maybe the fastest. The third one is Koopa Troopa Beach, with a lot of traps and shortcuts. And the last one is Kalimari desert with two trains to drive and fantastic music.
Flower Cup: the first circuit thar includes vehicular traffic is Freeway Toad; the second one is snowy circuit with a lot of snowmen with bombs inside. The third one is mount chocolate, as it name sample is a circuit made with chocolate. And the last one is track Mario, an autentic track with public and spectators.
Star Cup: stadium Wario is the first circuit, with motocross and incredible tricks, is one of the largest circuits of the game. Earth is the second one, where there are a lot of penguinis and obstacles with water and ice. The third is real track, this is Peach's circuir and there are a lor of castells and gardens. The last one is Bowser's Castell, an incredible circuit really complicated and close curves.
Special Cup: jungle track is Donkey Kong circuit and it is near a river and a waterfall, it is an amazing landscape. The second one is Yoshi's valley, a big valley with a great difficulty because of an incredible maze. The third one is the bewitched spring, a circuit full of ghosts and bats. And the last one is the path of rainbow, the largest circuit of all the game with a fantastic music and incredible colors.
Shell Cup: The first one is Great Donut, a circuit in a donut way around lava of a volcano. The second one is city block, blue, green, golden and yellow are colors that made up a bridge. Doble floor is the third one and there are differents levels of height. And the last one is skyscraper, it is really scary because the circuit is in the last floor of a building.
There are also another Game Tracks like Banana Cup, Leaf Cup and Lighting Cup. 
---
---